Top 5 Theme Parks And Amusement Parks In Tampa!
Posted by 54 Realty on Friday, July 23, 2021 at 4:39 PM
By 54 Realty / July 23, 2021
Comment
Afraid Of Heights? Don't worry we have something for everybody!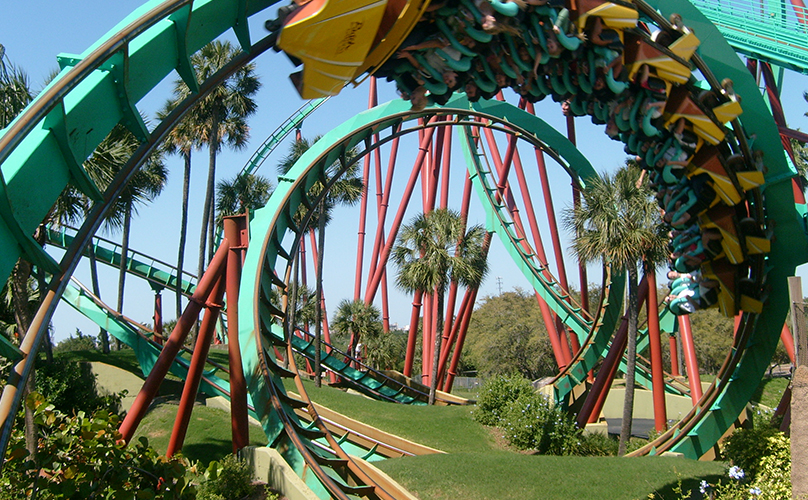 1. Busch Gardens Tampa Bay
Busch Gardens Tampa Bay is a massive African-themed animal park, owned by SeaWorld Parks & Entertainment. With eight roller coasters, two water rides and multiple animal attractions, this park brings together thousands of tourists, especially children throughout the year.You can check out the largest zoos in North America, which is located in this park and features more than 12,000 animals! Adrenalin junkies can participate in zip lining or take part in a tug of war with a Bengal tiger in Jungala. With a unique blend of wildlife, thrilling rides, live shows, restaurants, shops, and games, this is a perfect destination for those visiting Tampa.
2. Adventure Island
Located just across the street from Busch Gardens Tampa Bay, Adventure Island is a 30 acre water park featuring water rides, dining, and plenty of other attractions. Around since 1980, this tropical paradise features water attractions, a tree house maze, a sand volleyball court, and Splash Attack!
3. Qzar Laser Tag
Qzar Laser Tag in Tampa is the area's largest two-level laser tag arena. This attraction offers a 25-minute game experience and features red and green laser beams, music, FX lighting and more. Perfect for kids as they can be effortlessly tagged and fit easily into the normal gear provided here. The advanced technology keeps track of the number of hits by every player and the result is given to all players on paper printouts at the end of the round so you can improve the scores and strategies for the next round! Travelers can head to the arcade zone featuring brand new games or can munch on pizza or chicken nuggets in the food court.
4. Grand Prix Tampa
Grand Prix Tampa is a 15 acre (6 hectares) land, where families can take their children to experience immense fun throughout the week. With the Big Track Go-Kart track, the Family Track, the Castle Arcade, the Ropes Adventure Dome and a Miniature Golf course, this place is ideal for a fun family day out. Head to the Turbo Bungy Dome for a three-minute jumping session, or test your batting skills at the nine batting cages. The Castle Arcade is a very interesting space for all age groups, as they can spend hours and win prizes in air hockey, driving games, basketball and more. Make your way through the rope course or play a game in the fairytale-themed miniature golf course. Head to the Pit Stop Cafe to indulge in appetizers, sandwiches, and hamburger baskets.
5. ZooTampa at Lowry Park
Formerly known as the Lowry Park Zoo, ZooTampa at Lowry Park is a non-profit 63 acre (25 hectares) zoo. It is operated by the Lowry Park Zoological Society and the tourist attraction boasts multiple exhibits, animal inventories, and children's rides. Check out the Malayan tigers and Komodo dragon at the Asian Gardens, the Orinoco crocodiles, West Indian manatees and eastern coral snakes at the Florida Wildlife Center. The African Safari is perfect for checking out reticulated giraffes, African penguins, and duikers. Experience the wild at the Main Aviary as you observe the scarlet ibises, guineafowl, Raggiana Birds-of-paradise, toco toucans, ducks, and tanagers. Children will enjoy the rides zone that has a merry go round, flying bananas, a kiddie train ride, and the Tasmanian Tiger Family Coaster. Dine at the Garden Grille with burgers, sandwiches, and salads after an exciting time at the park.