Take A Ride on St. Pete's Thrill Hill
Posted by 54 Realty on Monday, August 3, 2020 at 11:54 AM
By 54 Realty / August 3, 2020
Comment
The history of "the hump" goes back over a 100 years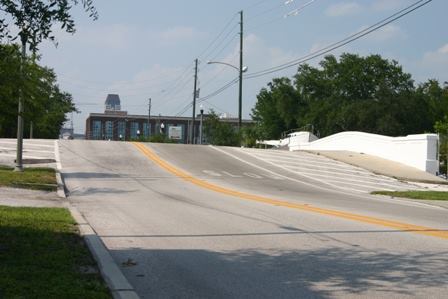 From a distance, the landmark on 3rd Street S doesn't look like much: a steep lump in the road south of 15th Avenue, marked by a blinking light and the letters S L O W. It's not a roller coaster, but the incline of the hill is enough to cause the same somersault feeling in the pit of your stomach.
Thrill Hill is a favorite landmark for those in St. Petersburg's Old Southeast neighborhood.
Thrill Hill, a humpback bridge over Salt Creek, was first created when a trolley line was introduced at the turn of the 20th century.
F. A. Davis, the man who introduced electricity to St. Pete, established the St. Petersburg and Gulf Railway Company in 1901. Davis brought trolleys to the city when there were fewer than 2,000 residents, said Will Michaels, author of Making of St. Petersburg and Hidden History of St. Petersburg.
His company's Big Bayou trolley line debuted in 1911 as a way to transport passengers between downtown and the southern parts of the city. Many didn't have cars and were dependent on the streetcar line to get downtown.
"We had a light rail before the term was invented," Michaels said.
Each stop had informal nicknames, Michaels said. The Thrill Hill bridge, built steep enough to allow for high tides and stormwater surges, was referred to as "the hump."
Even then, a ride over it elicited a stomach-dropping sensation. Times archive clips mention some riders liked to hang on the back of the cart for an extra bit of fun. Other times, smaller trolleys on this line would get stuck on the way up, requiring the conductor to get out and push it himself.
"The best story I ever heard about Thrill Hill was kids would grease the lines there and the trolley line would be chugging along and it wouldn't be able to get up the hill," Michaels said. "It just kept sliding back."
Bus transportation superseded the trolley in the late 1940s, and the last trolley car line ended in 1949. As the rail was phased out, the bump remained a popular spot for thrill-seekers traveling by car or bike.
A 1987 St. Petersburg Times article said the bridge got its name "because its humpbacked design can cause speeding cars to become airborne."
But the same steep incline that causes a fluttering sensation in the stomach also makes it hard for motorists to see what is coming. Numerous clips in the Tampa Bay Times archives outline crashes there. Four people were injured and one man died in two different head-on crashes in 1987. In hazards unrelated to traffic, an alligator was removed from the crest of the hill in 1998.
Over the years, measures were put in place to make the hill safer. A 25 mph speed limit was introduced, as well as a blinking caution light.
Today, the crest of the hill is a popular place to fish for mullet, snook, and trout that live in the brackish water below. It's also still a draw for daredevils.
"I've seen carloads of kids, some of them sitting with their butts sticking out of the window when they're gunning it," said Frank Tsang, a manager at Old Southeast Market, located just down the road from the hill.
"You hear them screaming sometimes, and then it's like, 'Okay, someone just went over Thrill Hill again.'"
Tsang remembers the tradition of driving over the hill that was around when he was a high school student. Now 43, he doesn't want to encourage kids to do anything unsafe.
"Sometimes there's jaywalkers, just kind of strolling across the thing, so you can't see them until the last second. You have to be a little bit careful about that," he said.
The market's bestselling sticker pays homage to Thrill Hill. Old Southeast resident Brian Ottoson, 40, designed the green and yellow "I Climbed Thrill Hill" decal after he and his wife saw an "I climbed Mount Washington" bumper sticker on vacation.
About 600 stickers have been sold in the past four years at Old Southeast Market, which has also stocked a Thrill Hill T-shirt from local print company Wide Sky.
"I think I get a kick out of it more than anything," Ottoson said. "I love driving around town and seeing one of the bumper stickers on the back of cars."
"It's kind of a little hidden fun thing in St. Pete, but it's nice to bring some light to it."