Here Are The Top 5 Rooftop Bars In The Tampa Bay Area You MUST Visit!
Posted by 54 Realty on Thursday, May 13, 2021 at 1:58 PM
By 54 Realty / May 13, 2021
Comment
Top 5 Rooftop Bars In Tampa You Should Visit This Weekend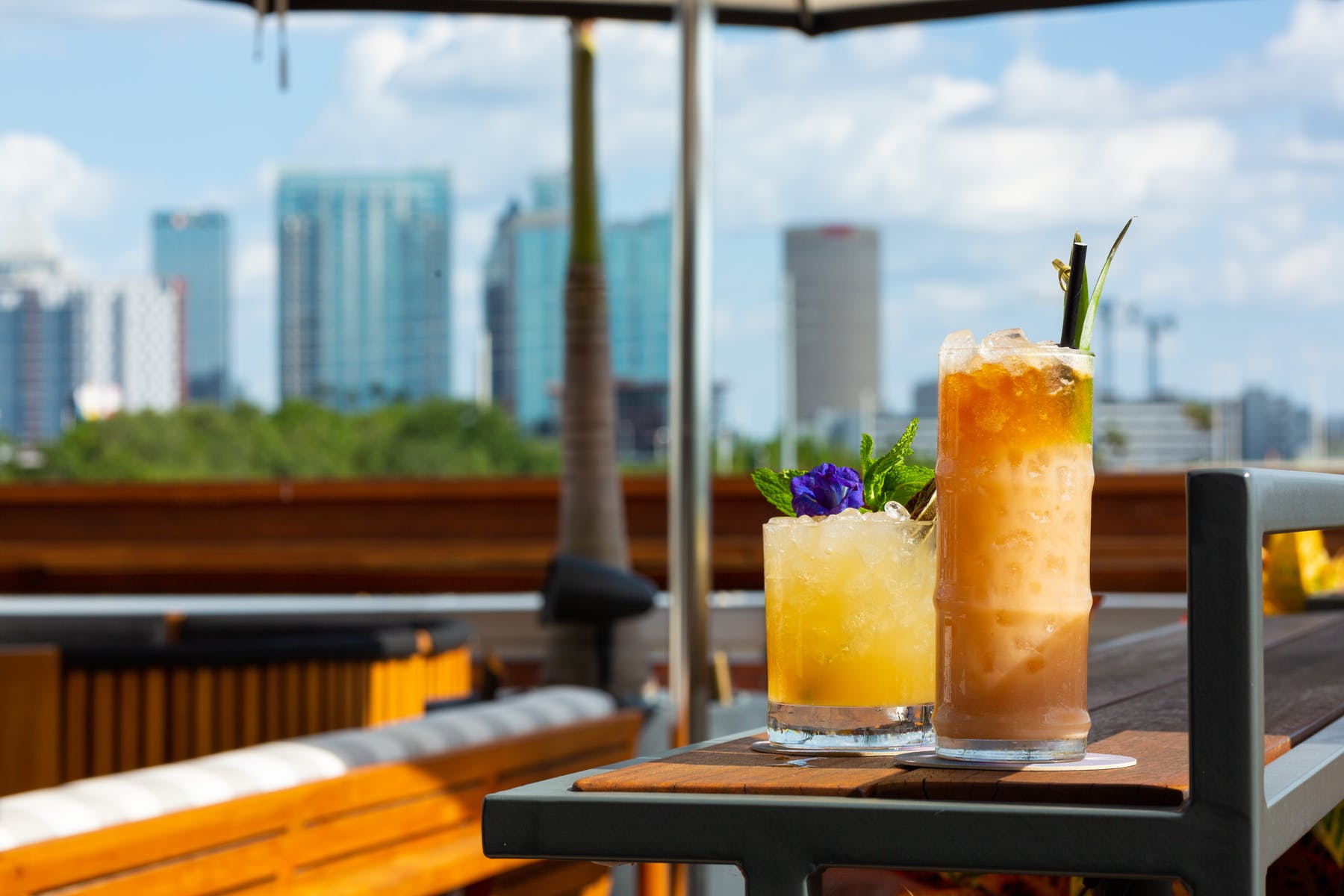 Want to have a nice peaceful night sipping some of your favorite spirits overlooking the beautiful Florida sunsets? Well look no further, there is a huge list of rooftop bars in Tampa Bay just minutes away! There are so many to choose from and every single one of them brings you a different vibe and atmosphere. Whether you are looking for a more casual or luxury rooftop bar in Tampa, we've got you covered!
M. Bird at Armature Works
M. Bird is an open-air rooftop patio bar located on the roof of Armature Works in Tampa Heights. The beautiful view consists of the Hillsborough River and Downtown Tampa Skyscrapers and is definitely worth taking a picture. The decor there is super aesthetic as well, with green and gold accents.
If you make the trip out there make sure to try the "I Left My Wallet at La Segunda" cocktail and the "Afterthot" drink, a rather strong but fruity drink. Two of these drinks are plenty enough, however if you are looking for a fun night out then round three may be necessary!
The Canopy at the Birchwood
The Canopy at the Birchwood is unanimously the most famous rooftop bar in St. Pete. Here you can get a 360-view of the bay, Clearwater Pier, and North Straub Park. The Canopy is the perfect in-between of a bar and club setting. Plenty of seating for large groups, fireplaces, and neon lighting.
As far as food goes, The Canopy serves lounge food like flatbreads and appetizers, perfect size to share. They also serve seasonal cocktails which feature ingredients sourced from the local St. Pete area!
Ladies night on Wednesdays and Happy Hour on Weekdays!
Pier Teaki
Pier Teaki is Tampa Bay's newest rooftop bar! Located at the new St. Pete Pier, this modern tiki bar is a perfect blend of modern vibes and a tropical setting by the water. Tiki hut umbrellas , hawaiian decor accents, and tropical-inspired beverages are the best way to whine down from a stressful work week.
Our recommendation for food would most definitely be their Popcorn Coconut Shrimp with the Pina Colada dipping sauce. Accompanied by their famous Mai Tai!
The Luna Lounge at Bulla Gastrobar
The Luna Lounge at Bella Gastrobar is the best view of Downtown Tampa. This bar is located on the fourth floor of Bulla Gastrobar, Luna Lounge serves the bar menu of Bulla but with a gorgeous view of the city.
Plenty of food and apps here and if you like Gin, then we highly recommend their Lemongrass Collins Cocktail to hit the spot!
Hi-Fi Rooftop at the Fenway Hotel
The Hi-Fi Rooftop in Dunedin is definitely one of the better Rooftop bars on this list. The view is just too hard to beat. Overlooking the intercoastal waterway, you'll be treated to a beautiful view of the sunset right over the water. Hi-Fi is a mix of modern hotel resort vibes, but with that wild Florida twist. Their seating includes large couch areas perfect of group dates, but they also have a nice bartop if you are looking to mix and mingle!